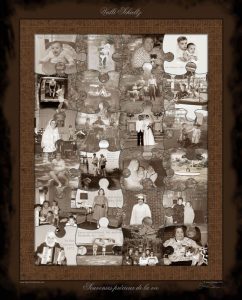 I began experimenting with graphic designs that simulated puzzles in the late '90's. Over the years my experiments became my trademark. I portray points in time as individual puzzle pieces.
Explaining my work sometimes gets confusing. When I tell people I design Precious Memories™ commemoratives using a puzzle format, they inevitably think about jigsaw puzzles and their many pieces. My commemoratives have no pieces. The puzzle pieces are all graphically simulated. My work to date is all digital. A commissioned Precious Memories™ commemorative can be a one off digital original. I prefer to have these printed on archival canvas, although they can be printed on archival paper or photo stock. The digital files are destroyed after printing.
If a client commissions a Precious Memories™ commemorative depicting an event, city, business, or other memorable occasion, I can have a limited or unlimited edition printed. These can be used for sales or promotion. It's up to the client.
One approach I am considering is the production of an original using hand cut, individually mounted pieces. The individual pieces would be assembled and permanently affixed to a backing board. The commemorative would then be over coated and framed. That would be a true original. The hand cutting could not be duplicated.
I have yet to produce this 'original'. It would be an expensive undertaking. If you would like to commission a hand cut Precious Memories™ original, please get in touch. You have the opportunity to own the first one.
I have done several city pieces – one of Ocarcoke Island, NC and the other of Charleston, SC. I invite you to visit my online gallery, TigersTime Studios, to review these commemoratives and my other work. There you can see my kinetic resin sculptures that date back to the late '70s. They are the precursor to the work I do today.
Do you have a memory you want to capture or promote in a unique way? Let's discuss it.