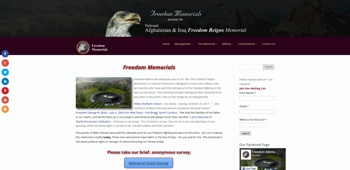 If you own a business and do not currently have a website – you need one! If you want to share your thoughts with your own blog or you just want to highlight your achievements – you need a website. I'm sure you've given it much thought. Here are some options and thoughts. Let me address these one by one.
Do It Yourself
If you are Internet savvy and have a fairly good command of programs like Photoshop, you can select a CMS (Content Management System) like WordPress to build your website. That may be a little too involved for some. Another option would be to use a WYSIWYG design sight like WIX. They actually let you build a free website, but it will have some limitations. If you want more than the site offers, you will have to pay for an upgrade.
WIX advertises the ability to easily build a beautiful site using their platform. For the most part, that's correct – if you are a good designer. I have friends who used this option to design their websites. What most (there were exceptions) ended up with was not good. A poorly done site will hurt your marketing effort.
In addition, there are a lot of site related matters that need attention like SEO, alt tag composition, the correct footer schema, etc., etc. In other words, you need to know more than drag and drop. If you decide to use WordPress, there will be a learning curve. Do you have that time to spend? If you do, maybe I can help you with some short cuts.
Hire a Local Design Firm
This is an often selected option. Local is good because you can meet with the designer or team. Wherever you live, I'm sure there are excellent design firms. They usually have a battery of designers and marketing personnel. My recommendation is to check them out and get an estimate for a website. Find a site on the Web similar to one that you might need. Tell the sales person to visit that site and give you an estimate based on his/her assessment. Compare prices from several firms. If the price is right, you're in business.
Hire a Design Firm Outside Your Local Area
People work globally these days. There is no reason not to research firms advertising website design outside your local area. If you are on a budget, as most of us are, get a good handle on what they are selling. I know a local company who hired a NY firm to build their website. They are paying $250 a month for their site. I don't know what extras they are getting for that fee. I know a lawyer in Michigan who was paying $10,000 a year for her site. Did it come with a new car or what? In other words, be careful. You must have some knowledge of how websites are built, hosted, marketed, and maintained so you don't get sold a bill of goods. It all depends on what you need. If you own a good size company that needs an ecommerce site, that's one thing. If you have a small business and need an informational site, that's another.
Hire an Overseas Firm
There are a lot of far easterners building websites on the cheap. I get e-mails from them every day. I worked with a CAD designer residing in India and had good success. But my project was very simple. I recommended this person to a friend who needed some CAD work. He did not have a good experience. His project was more complicated. The language barrier and time differential became issues. To make a long story short, he abandoned the overseas designer and hired a person in the US. Website design is a personal undertaking. I would not recommend farming it out to an overseas company or freelancer.
Hire a Freelance Designer
This is a good option if you can find the right person. Many times a freelance designer can save you money because they do not have the overhead of large firm. The downside is – they may be harder to locate because, many times, they don't advertise. If you find a designer who charges by the hour, be careful. How fast does he/she work? Billing hours can add up. I know this from experience.
I once hired an independent computer consultant because I was having some major problems with one of my workstations. He had some diagnostic software and hardware I did not have. This fellow billed by the hour. Since he came to my home, I ended up getting charged his repair rate for his time on the road. If I remember correctly, he was charging $45 per hour. He wasted time misdiagnosing the problems, but I got charged for every second he was here. By the time it was over, I could have purchased two new computers. I would recommend getting a bid for a site design that would specify a number of pages and the cost per page over the specified number. Then you would need to get a hosting cost, cost per page update, marketing cost (find out exactly what that entails and if you need that assistance), and a maintenance cost (who is going to keep plug-ins, theme, etc. updated).
I read this one a company's site.
"Over 70% of Internet searches are for local business and products, and 59% of consumers use Google every month to find a business."
True enough. That's one reason you might want to have a website. Local searches through Google, Bing, and Yahoo can help your business immensely. To enhance a Google search should be registered with Google My Business. If you want this to work effectively, the Google My Business page must be regularly updated. Will the company or freelancer create and maintain the Google My Business page? How much will you be charged per month for that maintenance? Can you create and maintain the page yourself? There's a lot to be considered. A well designed website is only part of your overall marketing effort. Don't expect to benefit from search engine traffic for six months to a year. You will have more immediate success with collateral advertising where your website URL can be published – business cards, social media posts, e-mail, flyers, signage, and the like.
I hope this has been helpful. If you have any questions, please get in touch.